one-on-one sessions are available in person and over the phone
An Intuitive energy healing session is a sacred space of internal growth and shifts. Together we will uncover any subconscious blocks and free up space in your body for clarity, love and expansion.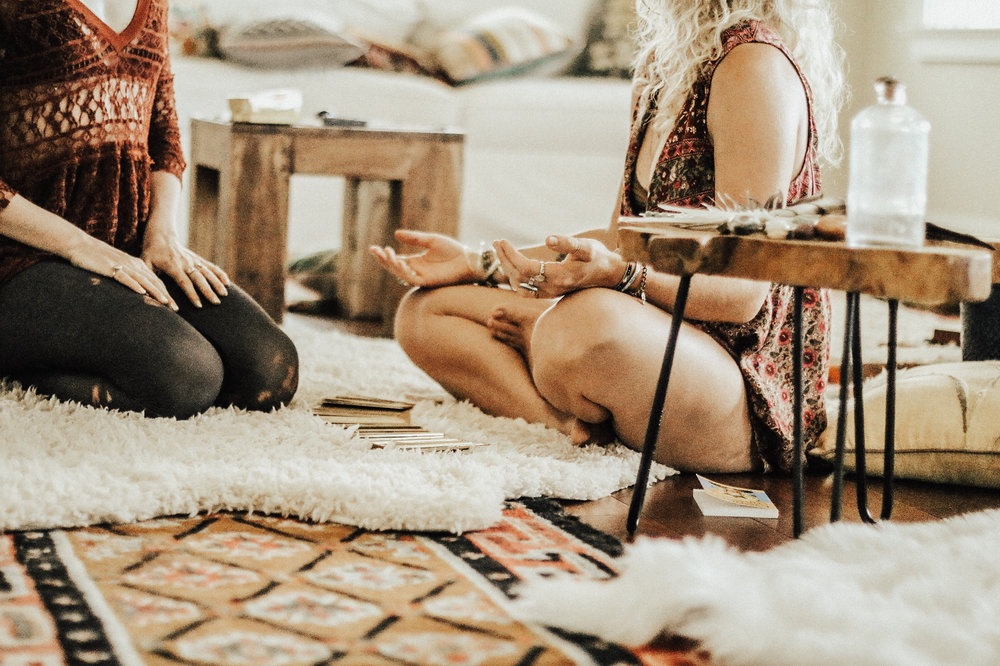 a session is for you if you
feel stuck and discouraged
feel disconnected from your spirit and center
don't know where to turn next
feel dissatisfied with your body
are escaping life staying overly busy and distracted
feel powerless and undervalued
are in a rut and cycle you can't break free of
work offered in a session
energy healing
chakra balancing
oracle readings
psychic work
subconscious reading
healing techniques
guidance and expansion
what to expect in a session
clarity on the next steps to take
to become recentered and connected to yourself
to gain peace and ease in your mind
to feel weight and heaviness lifted from your spirit
internally more free and open
guidance and love from your intuition and heart
to feel hopeful and light
We will always take a session at the pace your mind, body and spirit are willing to go. It's so refreshing to stop the running, crazy mind and bring you back to a place of grounding, affirming energy that will provide clarity and shifts for you to feel alive and centered again. Nothing feels better than a DEEP exhale of relief.
Please don't hesitate
to ask if you have any questions about booking an
intuitive energy healing
session with me!
"provided a huge shift for me…she knew exactly what i needed"
Within the first three minutes of my session with Jill, she had me deep within the womb of my mother loving on my infant self and releasing the shame that I've been carrying around for so long. Tears were flowing. Being held and witnessed in such a loving powerful way provided a huge shift for me. She knew exactly what I needed at the time, the words and her tone, as well as how to facilitate this process. She also provided several messages to me around things I have been working on and starting to use in my healing process, which affirmed I'm where I need to be. Sometimes its easy, even as a healer, to want to speed up the processes we are in to get through the muck and to the 'aha' moments. I appreciate having someone to taking me where I cannot take myself. She's an amazing mirror and gentle but powerful guide, which is precisely what we needed right now! I look forward to working with her again!
— Andrea Franklin @femininerisingkc
"i truly feel this was the most connected any intuitive has been"
In only a few minutes I was deeply relaxed and it felt seamless to connect to her. When Jill would touch on a certain point I would immediately feel an energy, and in some cases a release of tension in that said part of my body. I sobbed tears of joy that felt like they came out of nowhere. I truly feel this was the most connected any intuitive has been to me. I could feel and see the connection like a series of veins or roots connecting us. When the time was over I felt open and like I wanted another 12 hours of her time. I can't wait for another juicy session.
— Nicholas Kovic
"opened up my heart and started the release of what was no longer serving me"
Without knowing much about me, I felt so deeply that Jill understood me. She was so easy to open up to and connect with. She made the environment was so warm, welcoming, cozy and a safe place to just be. Jill opened my heart and started the release of what was no longer serving me. The love and support you feel while you're being guided through the session is incredible, she hit the nail on the head so to speak. During the session she used essential oils, stones and crystals to help assist in her healing powers. She left me with exercises to work on to become more open and honest with myself until the next time, I can't wait to go back.
— Shalyn Stankiewicz
"she can tap right into your energy… I felt very calm and centered"
I've had two sessions with Jill and they were both amazing. She instantly makes you feel calm, like you are talking with an old friend. It's amazing how she can tap right into your energy and notice things you might not have even been thinking about at that time. As she guides you through her healing process you can feel her energy as if she's in the room with you. During our session, I could feel the tension in my body being released and had vivid images helping me along the way. When our session was done I felt very calm and centered, but also that I could have talked with Jill for the entire night. I can't wait to book again!
— Ashleigh